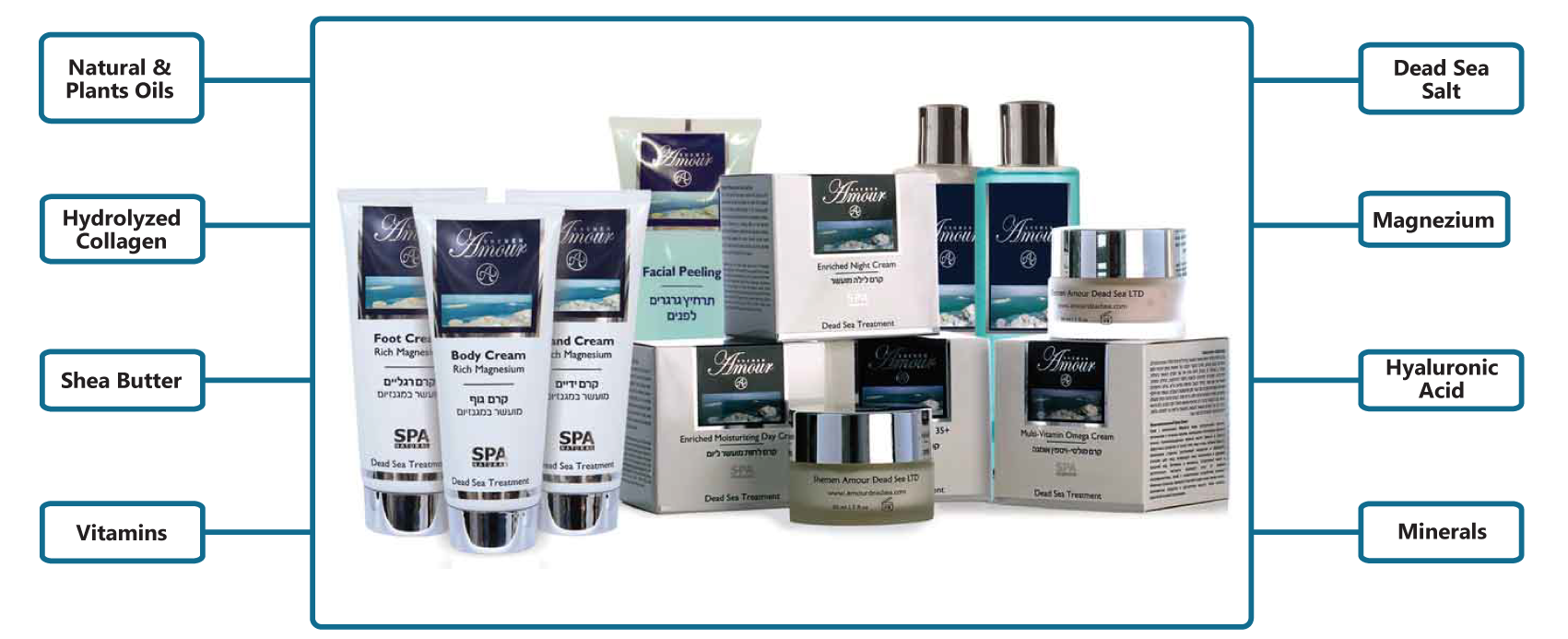 The Dead Sea, one of the world's true natural wonders, is located 430 meters below sea level and contains mineral-rich waters full of natural health and beauty benefits known for centuries. The highly concentrated mineral salt and mud found in The Dead Sea are proven to draw toxins from the body. Other minerals found in The Dead Sea include Bromine, known to have a relaxing effect on the nervous system and Magnesium which counteracts skin disorders. The water, salt, and mud contain more than 27 pure minerals and vitamins that come directly from nature. Shemen Amour Dead Sea Products combine minerals, vitamins, natural oils and plants extract that include Avocado Oil, Aloe Vera, Shea Butter, Tea Tree, Rosemary and Jojoba to create over 100 high quality face, body and hair products. Suitable for all skin types and for daily use.
---
Dead Sea Treatment products
The positive benefits of Dead Sea minerals in the treatment of eczema, psoriasis, acne, muscle pain and rheumatism has been known for centuries and widely studied today. After many years of Research by the best scientists our high- quality line of Dead Sea Treatment Creams was developed. Each cream specially designed to treat a specific skin condition naturally. Dead sea minerals, natural herbal extracts; plant extracts and natural oils are formulated to provide pain relief, ease soreness, repair skin with immediate results.
PSO Treatment
Designed for treatment of psoriasis; this specialty treatment cream combines Turmeric Extract and Olive leaves known as an anti-fungal and anti-inflammatory; clove extract an ancient healing plant proven to calm inflammation and stimulate new sell growth.
PSO+ Soap
Concentrated soap enriched with Dead Sea Minerals in combination with mud and sea weeds known for its ability to improve, restore and calm the skin and slow down its ageing. The mineral mud in combination with the sea weeds helps to treat irritated skin, redness, high sensitivity, psoriasis, itching, eczema and skin lesions. The soap thoroughly cleans the skin and enables penetration of minerals and oils into the deep epidermis, thus repairing and nourishing the skin.
Active Massage Cream
This special formula of pain relief cream, effective to relieve muscle pain a successful combination of natural minerals from the Dead Sea with mixed herbs, eucalyptus oil, lavender oil and peppermint extract all that mitigating the pain, particularly for local treatment.
Calendula & Tea Tree Butter
Calendula and tea tree butter for dry and cracked foot skin enriched with chamomile, lavender, jojoba, avocado, Shea and almond oils. Treats skin and prevents dryness and cracks. Neutralizes sweaty odor, softens and repairs foot skin. Calendula and tea tree are known for their calming effect and effectiveness in treating fungal diseases, cracks and foot weariness and puffiness.
Cellu + Treatment
Cellu+ Cream is an innovative cream that helps reduce and prevent new stretch marks that appear mainly after pregnancy, menopause or diet. The unique formula contains a combination of extracts, minerals from the Dead Sea and Shea butter to strengthen and tighten the skin. Suitable for all skin types. For daily use.
---
NATURAL MINERAL LINE FACE TREATMENT:
DAY TIME
STEP 1
Cleansing-Dead Sea Peeling soap #5455
STEP 2
Cleansing-Dead Sea 5.5 PH. Soap #5454
STEP 3
Dead Sea Eye & Face Serum #5029/5030/5312
STEP 4
Dead Sea Moisturizing Eye Cream #5017
Dead Sea Moisturizing Day Cream # 5010/5011/5064/5319/5065/5040/5014/5016/5024
---
NIGHT TIME
STEP 1
Cleansing-Dead Sea Foaming Soap #5609
STEP 2
Face Mask with Collagen and Avocado - 2 X week # 5486/5490/5563
STEP 3
Dead Sea Eye &Face Serum #5029/5030/5312
STEP 4
Dead Sea Moisturizing Cream 35 + #5041
STEP 5
Dead Sea Enriched Night Cream #5011
NATURAL MINERAL LINE BODY TREATMENT:
STEP 1
Mineral Body & Massage Soap #5261/5215/5219/5217/5586/5591/5585
STEP 2
Mineral Hand& Nails Cream #5035/5326/5207/5208/5574/5575/5642
STEP 3
Aromatic Body Scrub #5321/5322/5323/5325/5389/5320/5324
STEP 4
Aromatic Shea Butter # 5139/5134/5135/5136/5137/5133
STEP 5
Mineral Body Cream #5640/5639/5638
Or
Mineral Multi-Purpose Cream #5058/5061/5084/5167/5063
100 ml/200 ml
STEP 6
Mineral Foot Peeling Cream #5572
STEP 7
Mineral Foot Cream # 5036/5305/5439
OR
Calendula & Tea Tree Foot Butter