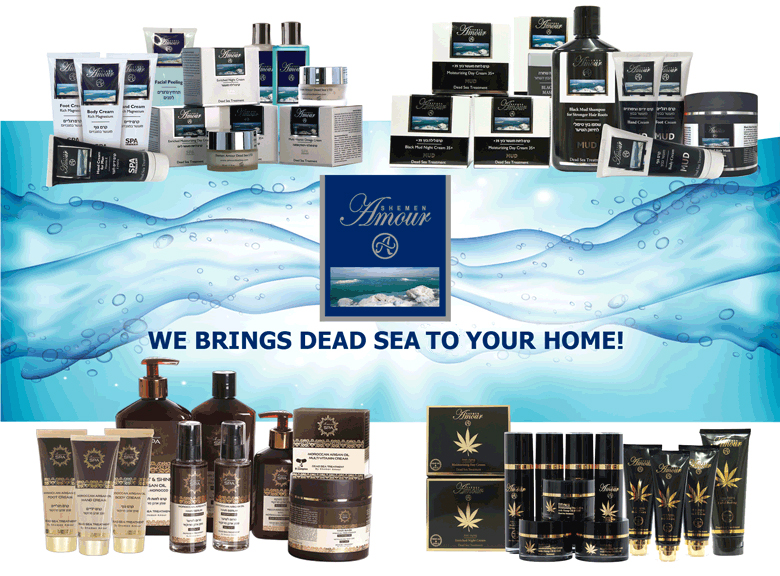 The Dead Sea, the lowest place in the world, known in remarkable healing properties, and people from all over the world travel to the Dead Sea for Recovery needs, Spa treatment, cosmetic treatment, and rest.

Many Cosmetic companies tied to discover the remarkable ingredients which are hidden in the minerals, salts and mud, but only a few of them managed to solve the secret of ingredients, which bring the best to the skin.

Shemen Amour, the brand of qualitative Dead Sea products, best cellers in all over the world, offer to you the best healing and cosmetic properties of the Dead Sea, at your home.
All our products were developed to your exact needs, after many research and tests.

Combination of

gifts

from nature

and advanced technology

.
Salt Products & Sweet Price

We in "Shemen Amour" believe in 3 principles: a qualitative product, c

ourteous

service, and good price.



Our aim: to bring to your home the Dead Sea affects.

The facial cream is a special combinetion between the dead sea's minerals and Fruits extracts. 27 Mineral absorb immidiately to your facial skin. Your face got the best!

♦ Many Teens find themselves deal with the Acne, especally in the time the appearance is very important to them. worng treatment in that age might leaves scars forever. Shemen Amour suggest to them the solid soaps: Acne soap, black mud soap and act. A dedicated soaps which dry the acne and prevent its appearance.

♦ Cellulite? No more. the anti-cellulite soap work well for you. use it in the problematic places and find good results. and a small secret: In the Laboratories we are deep in developing the anti-cellulite cream...
Be patient....

♦ The foot don't have to seem bad. The end to the d

ryness

, cracking,

roughness will come by using the foot cream. For better results use the black mud foot cream. It has, in addition, the mud which has grate effects on the skin.

♦ Your face needs a visit

to a

beautician

, but you don't have time for that. Our products will affect as a cosmetic treatment. Facial scrub, treatment mask, anti aging-peeling mask - give to your face a deep cosmetic treatment including:

Cleaning

pores

,

removing

dead skin cells, r

enewing

and

refreshing

the skin and

stimulating

blood flow.

Hair loss has an answer: Black Mud Shampoo for stronger hair roots. Read more...!
Dry Hair has an answer: Moist & Shine with Aragan Oil. Read More....!
When it comes to your skin - Don't settle!
Shemen Amour

gives body & face the best!